Plagiarism is a big issue regardless of the type of content you're writing. However, when it comes to academic stuff like assignments and research papers, plagiarism can become an even bigger problem, and it can get you in serious trouble with your institution.
One of the worst things about plagiarism is that you don't necessarily have to do it on purpose; it can occur even if you didn't have the slightest intention of doing it yourself.
But don't worry. While plagiarism is scary and all, there are some simple steps you can take to avoid it and to make sure that your work comes out completely unique and plagiarism-free. For doing so, there are a lot of online tools that you can take help from.
The same goes for grammatical errors. If you want to make sure that your paper has no grammar errors in it whatsoever, you can use different grammar checking tools that are available in abundance on the internet.
Once you take care of both these imperfections i.e., grammatical mistakes and plagiarism, your research paper will be ready to get finalized.
Best Tools to Write a Unique and Grammatically Perfect Research Paper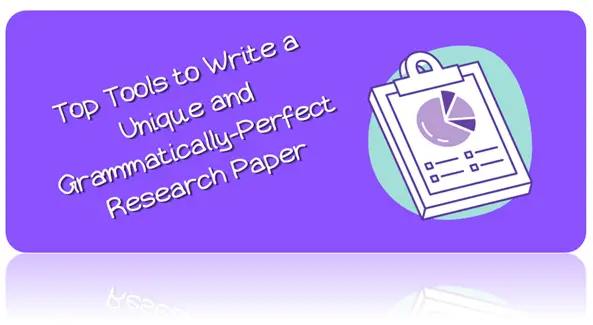 1. Plagiarism Checker by Rephrase
Before getting to how you can make your research papers grammatically perfect, let's talk about how you can make them unique.
For making your paper unique, there's not just one tool that you can use. Rather, there is a whole sequence that you have to follow which involves a variety of different tools and utilities.
The first step in that process is to find the duplication. Because let's face it, you can't really do anything about plagiarism in your work if you don't know where it exists.
To spot plagiarism in your research paper, you can take the help of the plagiarism checker by Rephrase.info.
Rephrase.info comes with a very clean and simple interface that you can get around without getting confused a lot. You don't have to sign up or make a purchase in order to get started with the tool. Although there are paid plans available on this website, they don't have anything to do with the plagiarism checker.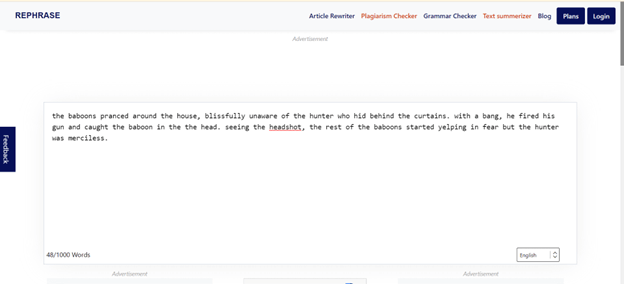 Moving on, using the plagiarism checking tool itself is a total breeze. All you need to do is paste your text into the input box and then run the captcha. Once the captcha, you can click on the 'Check Plagiarism' button to start the checking process.
If you want, you can also choose to upload a file directly from your system's storage. This way, you will be able to avoid the hassle of copy-pasting the text into the input space.
Once the plagiarism-checking process is complete, you will be able to see the results of the scan in an easily perusable sentence-by-sentence breakdown.
All the plagiarized sentences in the report will be highlighted in red, whereas all the unique parts will be shown in green.
Features
Free to use
No sign-up required
Supports different languages
1,000-word limit
So, once you find all the plagiarized parts in your research paper, the next thing you need to do is to remove them.
To remove plagiarism, you can simply rewrite the duplicated part using different words. This process (of rewriting) is known as paraphrasing.
If you want, you can paraphrase the duplicated sentences/paragraphs manually. But, since that can be time-taking, you can try a paraphrasing tool instead.
And that is where Paraphraser.io can help us.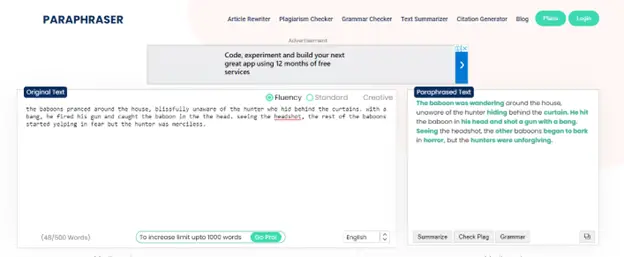 Paraphraser.io is an AI-based paraphrasing tool that can change the wording of the entered content to make it look different while retaining the original meaning and context.
The tool can be used by free and unregistered users. However, there is a paid version available in which the provided word count is increased to 1,000 words instead of the default 500.
There are a total of three different modes that you can use with Paraphraser.io.
The last mode viz. Creative is available only to paid users.
Each mode makes different changes to the entered text. For example, the Standard mode only does a bit of synonymizing whereas the Fluency mode goes a bit in-depth and also changes the sentence structures (albeit while keeping the meaning the same).
Apart from that, another excellent feature that you can enjoy with Paraphraser.io is the multiple language support. If you wanted to, for example, paraphrase some content in Spanish, you could easily do it without having to translate it to English first.
Features:
Free to start
500-word limit for free users
Three different modes are available
Multiple language support
Once you are all done making your research paper unique with the help of a paraphrasing tool, you have to make sure that it is grammatically perfect as well.
To do that, you can use the grammar checker by Prepostseo. This tool is free and is very simple to use. It gives quick results, and all the errors in the given content are highlighted in orange and red for easy visualization.
Once you navigate to Prepostseo.com, you will see a variety of different tools around the interface. Apart from the grammar checker, there are more than 90 other tools available on this website.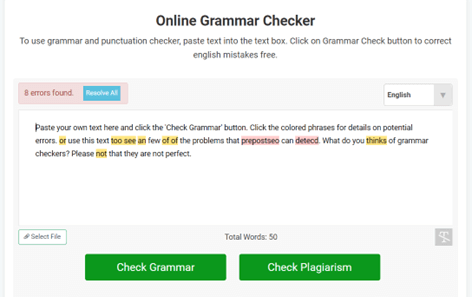 The purpose of telling the above is that Prepostseo is not the name of only a grammar checker. Rather, it is a whole suite of different tools and utilities. The grammar checker is just one member of the vast collection. Just so you don't get confused…
Let's come back to the tool itself.
In order to use the grammar checker, all you need to do is import your research paper to it and then click on the 'Check Grammar' button. There are two ways in which you can import your content to the tool. You can either:
Copy and paste the entire text into the input box
Or, you can use the 'Upload File' option to fetch the document directly from your system's storage
Once you enter the text and click on the 'Check Grammar' button, the checking process will start. Once it is complete, the spelling and grammatical errors will be highlighted. You can click on each one to see and apply the correct suggestion.
One extremely useful and convenient feature that you can enjoy with this tool is the 'Resolve All' button.
You could find it a little time-consuming to go down the whole content and click on each error in order to correct it. To make things quicker, you can click on the 'Resolve All' button, and the tool will fix all the errors automatically.
However, one thing that you should keep in mind when using this tool is that the formatting of the text will not remain preserved. In other words, if you have added any headings and specific bullet styles, they won't remain in their original form. Rather, they will be converted to plain text once they are inside the input box.
Hence, it is advisable to use this grammar checker on your research paper step-by-step. For example, you could copy some text from the paper and then paste it into the tool. After removing the mistakes, you could copy it back and then do the same thing for the next piece of text.
In this way, you won't have to worry about ruining the formatting and styling of your document.
Features
Free to use
Supports file uploads
Multiple languages supported
Convenient 'Resolve All' button
Conclusion
Grammatical mistakes and plagiarism are two of the most fatal imperfections that can occur in your research paper. Even if one of them happens to exist in your writing, it can ruin the whole quality and integrity.
That is why, whenever you finish writing a research paper, you have to check it using a grammar checking tool as well as a plagiarism detector.
The role of the former is to make sure that there are no grammatical and spelling-related issues in the paper. We discussed one such tool in the post above.
On the other hand, the role of plagiarism checkers is to make sure that there is no duplication – accidental or otherwise – in your draft.
The three tools that we mentioned in this post are great for finding and removing plagiarism as well as grammatical mistakes from your research paper. All of them are free to use (although some have the option of upgrading to a paid plan) and can be used online without any sort of downloads.